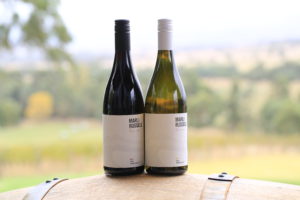 We are very excited to release our 2016 'Marli Russell by Mount Mary' wines. This year we are releasing the following wines:
Whilst you may see a change in the make-up of these two wines from year-to-year, they will now be known as RP1 (white blend) and RP2 (red blend) from this vintage onwards.
2016 was a rather warm, dry vintage, perfectly suited to the traditionally grown Southern Rhone varieties we have at Mount Mary. These 2016 wines mark the first vintage where all seven varieties planted in 2008 have been included. The Clairette and Cinsault make their debut this year in RP1 and RP2 respectively, both contributing to improved, more complex blends that we feel add another interesting dimension.
We now have five years of experience with these varieties at Mount Mary and we continue to endeavour to make the RP1 and RP2 wines in a ready to drink style.
To find out more about our Marli Russell label or to read the tasting notes for the 2016 wines, click here.
HOW TO PLACE AN ORDER
If you are interested in purchasing our Marli Russell by Mount Mary wines, please complete the online form and an invoice will be emailed to you shortly to confirm the order and payment.
Alternatively, 'Members Table' can login and purchase via the online store at www.mountmary.com.au
If you have any queries, please email admin@mountmary.com.au