Mount Mary is a family owned, single vineyard estate located in the heart of the Yarra Valley. The region is in the south-eastern corner of Australia, east of Melbourne in the state of Victoria. Established in 1971 by John and Marli Middleton, Mount Mary was one of the first vineyards planted in the resurgence of the Yarra Valley as a premium wine producing region.
The inspiration behind the planting of vines in the Yarra Valley came from the Swiss settlers of the 1850's. These worldly and hard working immigrants had been greatly influenced by the French wine producers and recognised the climatic parallels the Yarra Valley shared with Bordeaux and Burgundy.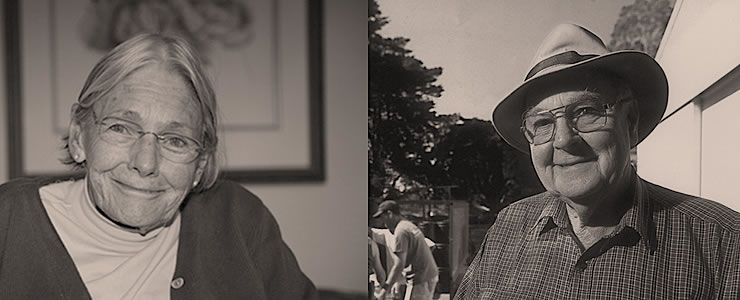 Founders John and Marli Middleton
In the 1960's John and Marli Middleton, driven by a passion for fine table wine, made many visits to the wine producing regions of the world and in particular, to Bordeaux and Burgundy. They soon became hooked on French premium wines and the thought of producing something similar in Australia in the footsteps of the Swiss. They resolved to find a suitable site upon which to establish a small commercial vineyard with the intention of making elegant, low alcohol wines from French varieties. John was driven by an idea put in his head by Colin Preece, Senior Winemaker at Seppelts Great Western, that Australia was yet to produce a refined and elegant Cabernet. John saw it as his duty to work towards this.
And so it was that in 1971, John and Marli stumbled upon the property known as Mount Mary. Surprisingly, this ideally located, gentle north facing slope had not been planted to the vine yet they immediately recognised it as being ideal for their purpose. The first plantings were completed by mid 1972 and today Mount Mary has 40 acres under vine representing 18 varieties.
The four Mount Mary Vineyard estate wines are comprised of two blends traditionally grown and made in Bordeaux, France (Quintet and Triolet) and two varieties traditionally grown and made in Burgundy, France (Pinot noir and Chardonnay).
Mount Mary has established a dedicated clientele of private mailing list customers and has a national distributor to selected restaurants and retail outlets. All our wines are made from estate grown fruit and are produced and bottled on site at Mount Mary.
The fact we are entirely self contained in all parts of the process is extremely important to us. This philosophy has been central to who we are since day one and will remain our approach to producing fine table wines in the future.

More than half the land area of Mount Mary is not directly related to wine production. The health of our property is of primary concern and we have the long-term objective of being self-sufficient in energy and water. We are also keen to limit our impact on the environment through revegetation and weed control. Despite the many challenges that have been presented to us over the past few years, progress towards our environmental goals continues. We are on a journey of continuous improvement and while we still have a long way to go to reach all of our goals, great progress has been made in with our planting program and our water and energy system designs. Work has begun on the reticulation of our harvested water supplies, the modernisation of our winery wastewater management and the energy efficiency of our winery. Our revegetation areas are already attracting increased numbers of native birds and our Snow Gum conservation area is looking good. We are continuing with our program of collecting a variety of native seed for propagation.
For the past few years, we have been fortunate to be a part of Melbourne Water's Stream Frontage program. Although both drought and flood have played a part in limiting the establishment of young plants, we will continue to work on these areas. Also on the agenda is the completion of our gully wetland project.
The ultimate goal of our environmental works is to be energy and water efficient, relying less on outside supply, to provide additional habitat for native species, and to limit our negative impacts by containing and treating waste products on site. Renewable power, water collection and recycling, and redesigned facilities are at the centre of these improvements.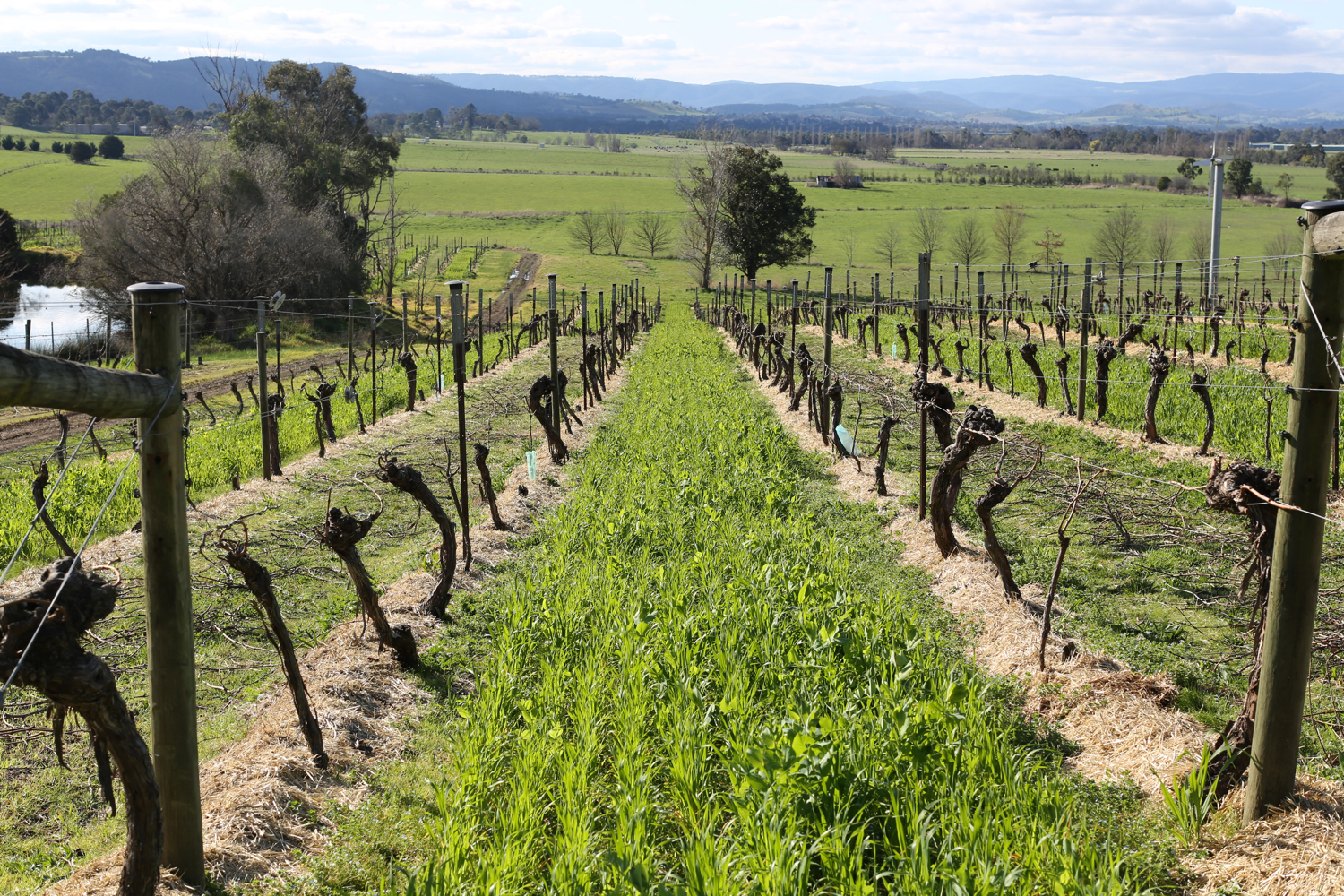 Viticultural Philosophy
Although we are not certified biodynamic or organic we have a very keen interest in soil health and improving the environment around us. We are striving for a sustainable and robust viticultural system to ensure the long-term future of our site and the continual evolution of our wines. To help with this vision we adopt many viticultural practices, which include spreading compost in order to manipulate the soil microbiology and increase soil organic matter, along with spreading small amounts of organic fertilisers, and in some blocks mulching undervine with straw to increase soil water retention.
We like to minimize the use of machinery in our vineyard in order to reduce the amount of soil compaction within the vine row. Cover crops are sown down every alternate row which helps to increase soil organic matter, improve soil structure and provide a home for the many beneficial insects which play an important role in pest management. We continue to strive towards a spray program which only involves chemical use when absolutely necessary. We are focused on doing these things to ensure a healthy, sustainable environment.