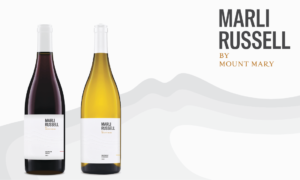 After ten long years of planning, planting, pruning and picking we are very excited to be launching the very first wines under this new label Marli Russell.
It was back in 2007 where it all began, when we embarked on what we've previously referred to as our 'Rhone Project'. Essentially this project stemmed from our continuing curiosity to explore the further potential of the Mount Mary site. The purchase of adjacent land and the ever changing environmental conditions inspired us to plant seven Rhone varieties… three white grapes: Marsanne, Roussanne and Clairette, and four red grapes: Grenache, Shiraz, Mourvedre and Cinsault.
Marli Middleton (nee Russell), co-founder of Mount Mary, was the inspiration behind the label in recognition of her enthusiasm for our family to continue the pursuit of new ideas. Marli was an inspiring, adventurous and fun-loving woman, it is this spirit of hers that we hope shines through in these wines.
New release Marli Russell wines:

We are excited to be releasing both the 2014 and 2015 Marli Russell vintages together. These wines are grown and made in a way that reflects the expression of these fascinating varieties. Importantly, all wines bearing the Marli Russell label are estate grown and made at Mount Mary and in the future we plan to release other interesting wines under this label.
True to the core philosophies at Mount Mary these wines are made in an elegant, restrained, food friendly style. The Marli Russell wines on release are:
2014 Marsanne Roussanne
2014 Grenache Shiraz
2015 Marsanne Roussanne
2015 Grenache Shiraz Mourvedre
Our Mailing List and Members are now invited to place their order via their online account or on the order form provided so please check your emails regarding further instruction.
If you would like to register your interest in our mailing list and these Marli Russell wines please email us at admin@mountmary.com.au
We very much look forward to sharing these wines with you over this release and seeing how they evolve over many more years to come.